Launch of MyTimetable at Radboud University Nijmegen
Eveoh
is proud to announce the launch of our personal schedule application MyTimetable for
Scientia Syllabus Plus
at Radboud University in Nijmegen, The Netherlands. Last week the application became available to all students at the Radboud Student Portal, resulting in a personal schedule for each student, including a real-time feed to Google Calendar, Outlook or mobile phone. With a second university moving to our solution, MyTimetable has reached another milestone.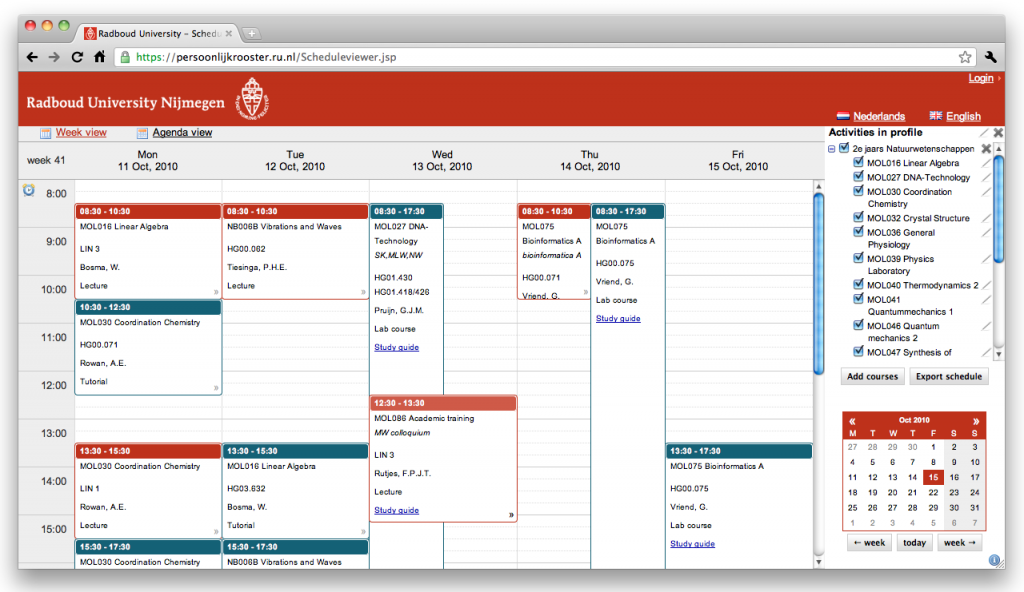 We got in touch with the Radboud University when they were faced with the same problems Delft University of Technology encountered at the start of last academic year. Students were complaining about the lack of support for digital calendars and other problems with the interface. With the MyTimetable application in place, we believe a proper interface for viewing personal schedules became available for all Radboud University students.
Together with the Radboud University, we investigated the necessary adjustments to the existing software. To assure the software remains maintainable, all changes were made in the main version of MyTimetable. Because all features have been implemented in a generic way, configuration makes it possible to apply them at all our clients. Next to the adjustment of the user interface to Radboud corporate style, the following new features were added to MyTimetable:
– Filtering and selecting of activities within modules;
– Two way link with study guide;
– Multi-language support;
– LDAP authentication;
– Multi-year support for multiple Syllabus Plus databases.
Future
The first version of MyTimetable was
released
at Delft University of Technology in February 2010. Since then we have been working on improvements resulting in newer versions available for all our clients. With a second university now moving to our solution we reached another milestone. MyTimetable now provides timetable information to roughly 35,000 students in the Netherlands. Judging by the amount of positive feedback and the interest of several other Dutch educational institutions in MyTimetable, we expect to increase this number to over 100,000 students before the start of the next academic year. Is your institution using
Scientia Syllabus Plus
for scheduling and are you in need of a user interface adjusted to your needs, then do not hesitate to contact us for more information.
Contact
Tom Verhoeff 06 – 44 21 57 32
tom@eveoh.nl
Relevant links
https://personalschedule.ru.nl
https://persoonlijkrooster.ru.nl/
Introduction to Radboud University personal schedule application (video)
Eveoh
Scientia
Tags: Eveoh, interface, marco krikke, mike noordermeer, my timetable, nijmegen, radboud, scientia, syllabus+, tom verhoeff
Trackback from your site.