WP7NL Apps – Statistics and Update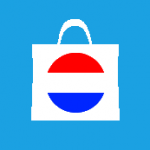 About 6 weeks ago I released the
first version of WP7NL Apps
to the marketplace. An application that would provide a seperate place for Dutch content on the Windows Phone marketplace as long as we have to life without our own marketplace. The app received quite some attention online which led to over 1000 downloads as of the 14th of May. For an app specifically targeted at the Dutch market this isn't bad at all (but of course we can do better). In this post I would like to share some statistics and I am also to happy to finally announce the next update.
Statistics
To be able to gain a little insight in the usage of the app I instrumented the application with Preemptive's Runtime Intelligence. This led to some interesting results. Since it's launch the application has linked to the marketplace a total of 13648 times. 12720 times to applications and 928 times to developers. 3D Camera received the most clicks, it's on top of the alphabatically sorted list so no surprise here. Matthijs Hoekstra seems to be the most well-known WP7 guy in the Netherlands, his developer account received the most clicks. Here's the full top 10.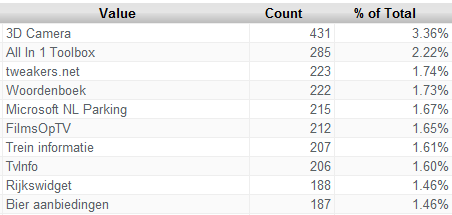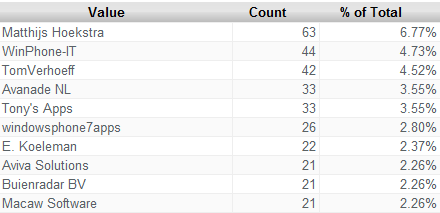 Update
This week another update to the application will be released. It took a little longer than expected due to some nasty bugs. Thanks to
Olaf Conijn
for helping me out yesterday. The update will include 2 often requested features: A new page that lists the most recent additions, so it's easy to keep track of new releases and a page that highlights the most important/great apps from NL The top list is based on community input, find me at the
Dutch WP7 community
to share your favorite apps. I just submitted this update to Microsoft so it should available within a few days. As always I would love to hear your feedback. I also just finished a Belgian version of this application which should also be available soon. Please let me know if you are interested in a similar application for your country, all I would need is a list of AppIds.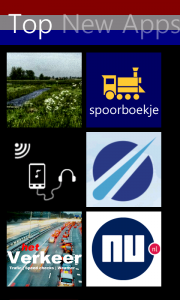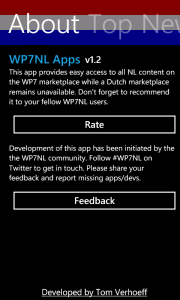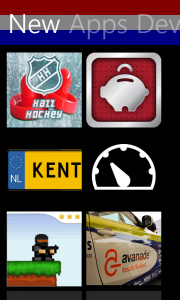 Tags: statistics, wp7dev, wp7nl, wp7nl apps
Trackback from your site.