Windows Phone 7 Review Reader
It's been about 2 weeks since the first Windows Phone 7 devices became available and the Windows Phone 7 Applications Marketplace officially launched. This means consumers now have access to all the applications and for us developers this means our products (apps) can actually be sold. Unfortunately Microsoft does not provide easy access to reviews on the marketplaces just yet, all you can do is fire up the Zune software and check out the ratings in your local marketplace. I discussed this issue with
Matthijs Hoekstra
and have been trying to find a solution during the last few days.Fortunately i found one: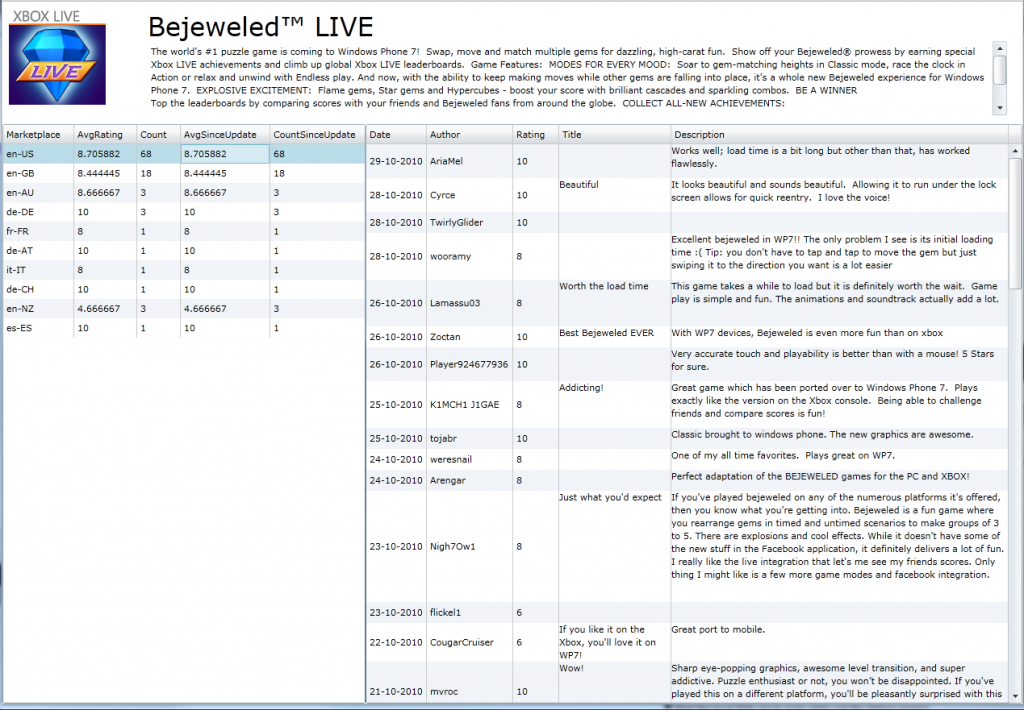 I have been able to build a little Silverlight application showing just the information you need:
Average rating and total number of ratings per marketplace
Average rating and total number of ratings per marketplace since the last application update
All reviews with date, user and description
Click here
to go to the application. All you need is your product/application ID which can be found on the app details page in the App Hub. This is just the very first version of this application, i will be working on new features in my spare time throughout the week. Any feedback or feature requests are highly appreciated. Contact me by leaving a comment, using the contact form or
find me on Twitter
. Also keep an eye on my twitter for any updates regarding the application.
Update: As Jeff Brown points out in the comments the ratings are on a scale of 0-10 representing 0-5 stars in the marketplace
Update 2: I just published some updates to the app. It now shows a total for "All markets". Also review title and description are now selectable for copying. Might be usefull in combination with a service like Microsoft Translator
Tags: 7, developer, marketplace, phone, review, windows, wp7, wp7dev, wp7RR
Trackback from your site.