Get in touch with your WP7 App Reviewers
It's a problem encountered by every (WP7) app developer: users leaving reviews and there's just no way to contact them. How often did you want to clarify features misunderstood by a user? Or just want to let the user know you appreciate the input and will consider their feedback for a future update? A while ago Silverlight MVP and PicturesLab developer
Rene Schulte
shared his manual way of contacting reviewers through Zune social on his
blog
. Although this works in only 50% of the cases it is the best method I am currently aware off. Therefore I decided to integrate messaging users with the existing
WP7 Review Reader
I built a while ago. This provides developers with an easy way of contacting their customers. Here's how to use it:
Look up your app like you normally would in the WP7 Review Reader: http://wp7reviews.tomverhoeff.com/
Click the username of the review author you would like to contact
You will be redirected to a Zune Social direct message form, make sure you are signed in with the Live ID you would like to use for communication.
Enter the message you would like to send
Hit send!
That's it, the messag will now be delivered to the review author through Zune Social. Note: Zune Social does not confirm that a message has been sent. You'll have to trust it after hitting send.
So how will the review author notice your attempt at contacting him/her? Unless they changed this setting they will receive an e-mail notification citing your message: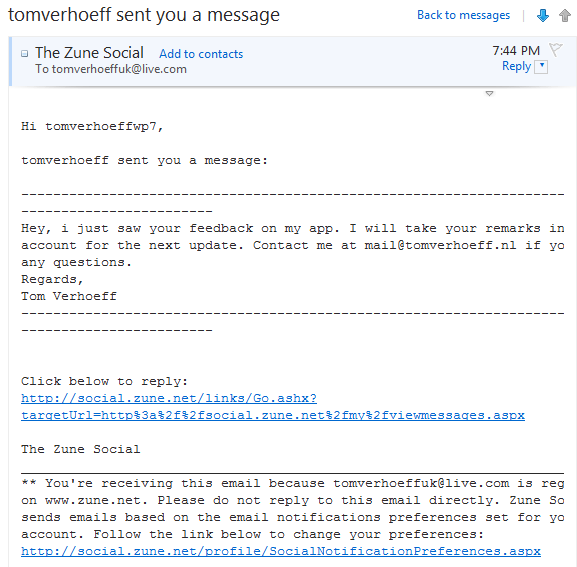 Like Rene already pointed out on his blog this method only works for approximately half of the users, currently there is just no better way i can think of. Please let me know if you know of any better solutions. Also keep a few things in mind when contacting you users:
Always provide an official support e-mail address to get the conversation out of Zune Social. This will make sure the users think you are serious in your efforts.
Don't just ask your users for a higher rating. Try to figure out their problem, help them and there's a 9/10 chance you will be rewarded.
Don't waste time on people just being rude. When a user just gave you a 1 star without any apparent reason sending a message probably won't help. Sending one message asking for clarification might help, but don't bother if there's no reply.
Good luck with contacting your users, improving your apps and improving your ratings. Also do let me know about other feature requests. Contact me by leaving a comment, through the
contact form
or find me on
twitter
Update: Clicking a username will show a popup, make sure it is not blocked by a popupblocker!
Tags: marketplace, review reader, windows phone 7, wp7, wp7dev, wp7nl, wp7RR
Trackback from your site.